Special offer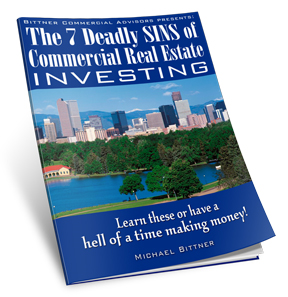 Learn Commercial Real Estate Investing from a Pro
The 7 Deadly Sins of Commercial Real Estate Investing can save you time and money! Sign up to get your free copy today!
Why Invest in Colorado Commercial Real Estate?
With the job market plummeting in some locations and not others, relocation is frequently on the mind of many Americans. Packing up and starting fresh is much more easily said than done, however many have found that relocating to Denver has offered countless benefits and advantages. The general cost of living is lower in Denver than it is most major cities. With a wide range of house prices, Denver real estate is accommodating to those first time house buyers as well as those in the market for executive housing. Denver's central downtown area includes a mile-long pedestrian mall that includes parks, plazas, shopping, cinemas, art galleries, sensational restaurants and a chance to enjoy the spectacular architecture. With all of the blistering tales of Colorado's weather, new Denver residents are pleasantly surprised by the approximate 300 days of sunshine Denver gets a year. Families relocating to Denver are greeted by an exceptionally strong school system, widely recognized today as one of the best in the country. With its abundance of positive attributes drawing more and more people to Denver, businesses are growing along with the population. These increasing numbers are making Denver commercial real estate a lucrative investment. Relocation is always an exciting step towards one's future, in relocating to Denver the excitement never ends.

For the third year in a row, Denver was ranked in the top ten of cities to watch in the Emerging Trends in Real Estate 2010 report. There is much speculation that across the country, 2010 will be the hardest year yet in the commercial real estate world. However, several real estate experts have theorized that those doing well before the crash will bounce back quicker and will perform better coming out of it. The report stated,"Denver marshals its attractive Rocky Mountain lifestyle attributes and works hard to fortify its downtown core into a multi-faceted, 24 hour commercial center."

In conducting the report, a few of the things the real estate investors consider are the global gateway markets on the East and West coasts (international airports and major commercial centers), cities and urbanizing suburbs (pedestrian-friendly neighborhoods, retail, entertainment), brainpower centers (universities, high-tech industries) and barrier to entry markets where geographic constraints limit development. In the 31 years it has been conducted, the Emerging Trend Report receives responses from more than 900 leading real estate experts and has become one of the most highly regarded annual industry outlooks. While the commercial real estate industry doesn't promise to be booming in 2012, experts give us many reasons to keep our eyes on the Denver commercial real estate market.
Custom Colorado Commercial Real Estate Investing
BCA's Bittner Easy Invest
TM

System customizes every investment to your requirements. You need to find out what the elite investors that work with BCA know. Ethical and effective investing with a select group of individuals. You deserve the best.