Special offer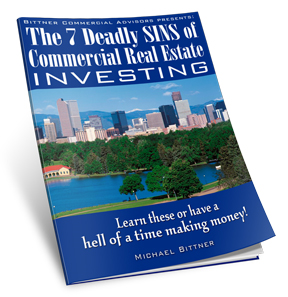 Learn Commercial Real Estate Investing from a Pro
The 7 Deadly Sins of Commercial Real Estate Investing can save you time and money! Sign up to get your free copy today!
Looking for a Colorado Commercial Real Estate Investment Partner?
We are interested in partnering with a few new investors this year. We have Colorado Commercial Real Estate investment opportunities in Office, Medical Offices, Office/Retail and Industrial Properties which have potential, with appropriate modifications, of substantial increase in cash flow and corresponding equity increases. To learn more about our Limited Liability Limited Partnerships, click on the button below.
Custom Colorado Commercial Real Estate Investing
BCA's Bittner Easy Invest
TM

System customizes every investment to your requirements.

Michael Bittner, President of Bittner Commercial Advisors was interviewed about his unique investment system, created to streamline and assure financial success.