Special offer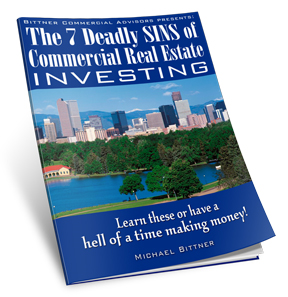 Learn Commercial Real Estate Investing from a Pro
The 7 Deadly Sins of Commercial Real Estate Investing can save you time and money! Sign up to get your free copy today!
Why You Need BCA
In these challenging investment times, BCA offers you a valuable opportunity to secure your future assets in premium Colorado Commercial Real Estate.
Bittner Commercial Advisors has created a system, Bittner Easy InvestTM , to guarantee that our clients can increase their wealth with solid investments in Commercial Colorado land or buildings. Bittner Easy InvestTM offers you a simplified, efficient way to increase your wealth through Commercial Real Estate acquisitions. Our full service solutions support you from start to finish-initially in the identification of ideal properties, then through acquisition, and finally with management.
-When to Buy
-Where to Buy
-Physical Improvement
-Service Issues
-Financial Considerations
-Tenant Mix
-Lease
-Market Conditions
-Engineer Studies